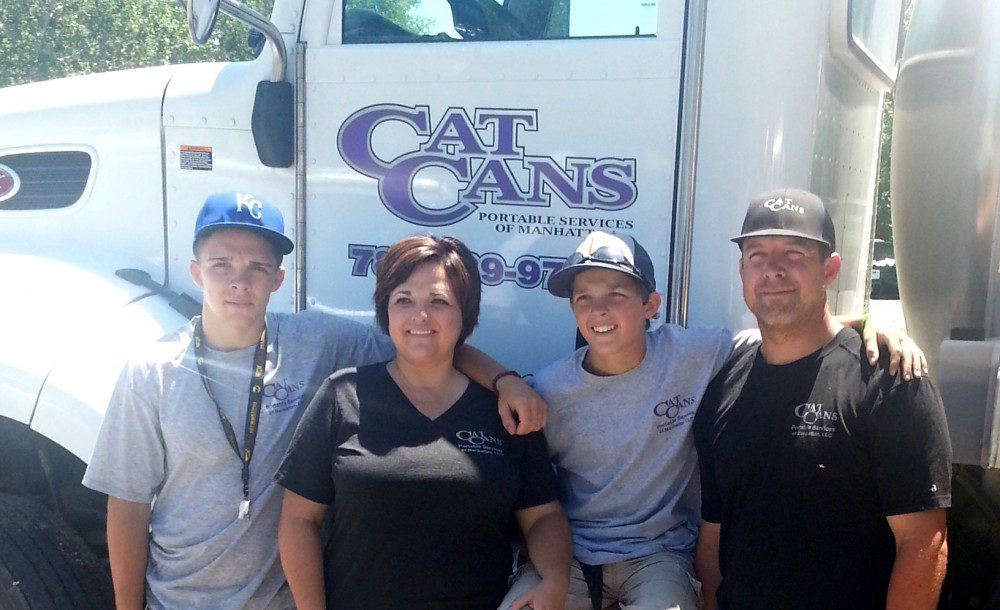 September 2010 is when our first load of portable restrooms were picked up.  We had 30 units and a pump truck purchased within about 8 days of "thinking" about this new adventure!
Adolfson & Peterson, the construction company that was doing work at Manhattan High School, was our first customer.  The job superintendent told me that they would love to work with a "local company" – they currently had an out of town provider – we delivered our first load of units 3 days later!
We rented a small shop and quickly learned the in's and out's of the portable restroom business.  What was the big secret to making this line of work a success, all we could figure out was work hard, provide great customer service and the rest should fall in place.
Neither one of us are strangers to hard work; Matthew grew up working on farms, went to college for Soil and Water Science, became a small engine mechanic before settling on a plumbing career.  I grew up on a farm, worked for an accountant during school, went to college for Marketing and had a successful career in sales with Aflac.  Our philosophy in everything we do is give it your all!
The business continued to grow – we continued to buy units and quickly had to add two more pump trucks!
Summer of 2011 presented a very hard challenge for our family and our business – an unexpected illness – could have stopped us in our tracks – but we knew that we could survive this and would come out stronger on the other side!
May of 2012 we were approached by Leon Smith, AAA Septic, to purchase his business and take care of the customer base that he had grown over 35 years.  Our company had another growing spurt – with adding a septic truck and providing septic pumping.
April of 2014 we moved into our new shop with an office, up until this point, I officed out of the house and answered the forwarded phones on my cell phone.  Today, I have NO idea how I did that!
July of 2015 we hired Tod Hettenbach, owner of Kansas Pumping Services, and purchased his pump trucks and pumping business.  Again, another growing spurt…now offering septic services to a larger area including Manhattan, Wamego, Junction City, Milford, Chapman, Abilene and Salina.  With hiring Tod, we are also able to install and repair septic tanks and lateral fields and increase our pumping services to include grease traps and mud pits.
September of 2015 we have 3 septic trucks, 4 portable restroom trucks, the units continue to breed in the yard – so I have lost count!  We employ 7 full time employees, 1 part time employee and several members of the Manhattan High School Wrestling Team, including our 2 boys, and my parents, during the summer and for special events.
We are incredibly blessed to have such amazing support from our customers and the best employees around!
Matthew and I would like to thank everyone that has done business or referred our business over the last 5 years!  We hope to continue to provide our services for many, many years to come…in order to do this, we will follow this philosophy…professionally provide an essential service with respect to our customers and the environment.
Thank you for a great 5 years – we are excited to see what the next 5 have in store!  Matthew and Aricca