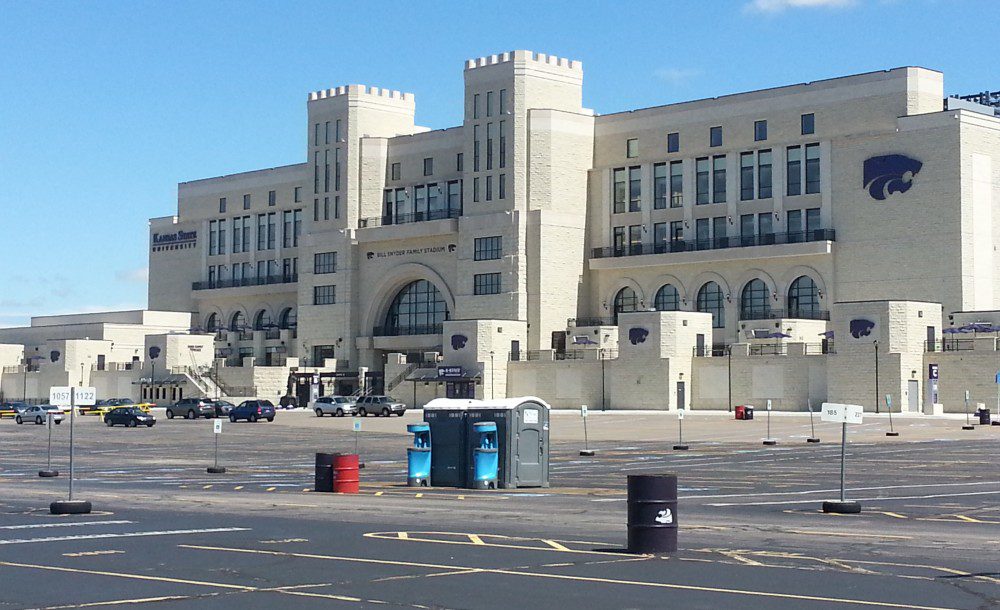 Saturday August 30, 2014 marked the kickoff of the 2014 season of K-State Football!!  What a beautiful night for football and a Cats win!!!
This season marks the third season that Cat Cans has been providing the portable restrooms for KSU Football and surrounding parking lots.
Our football kick off begins the week before the game; delivering trailer loads of portable restrooms from our shop to the stadium – lining them up in pairs perfectly down the driving lanes – quadruple staking down the grass units where the students tend to get a little rowdy – delivering the KSU Rec complex – Manhattan Catholic Schools parking lot – KSU Vet Med and KSU Grain Science across from the stadium.  Delivering around 130 restrooms and the job doesn't end there!  The Friday before game day – the units are all gone through – wiped down – stocked with toilet paper and hand sanitizer – cabana and blue chemical added – ready for the tailgaters to arrive 5 hours before game time!
Game day…the restroom trailer is unlocked in the north end zone; Curtis and Joni set out their lawn chairs as the attendants and Marccus "helps" while standing in the end zone with Officer Honeycutt – to be 11 years old and get to watch every game from the end zone at a NCAA Div 1 Football Stadium – priceless memories for him!  Two guys in each truck and a truck on each side – ready for that whistle to blow…once the tailgaters have made their way into the stadium – our crews go to work – pumping and stocking all the restrooms on the east and west side – ensuring that when the fans return to the parking lot at halftime – their portable restroom will be fresh and ready for use!
Sunday and Monday all of the units are pumped and locked until the next home game and then our "game week preparation" begins all over again!!
We pride ourselves on the level of service we provide to our customers – a large crowd at a KSU game deserves that same level of service – we could not do it without our full time employees, a couple part time employees and family!!